Development update!
Here's the follow-up for this week of development,
I've done some edits to the occupations system, making it more unisex, new jobs were added while the wench, which was mainly a female job, was substituted by a better job title. That way there aren't limitations to what kind of profession a character, or CA, could have.
This week I took care of the Occupations, Classes, and Skills & Spells systems.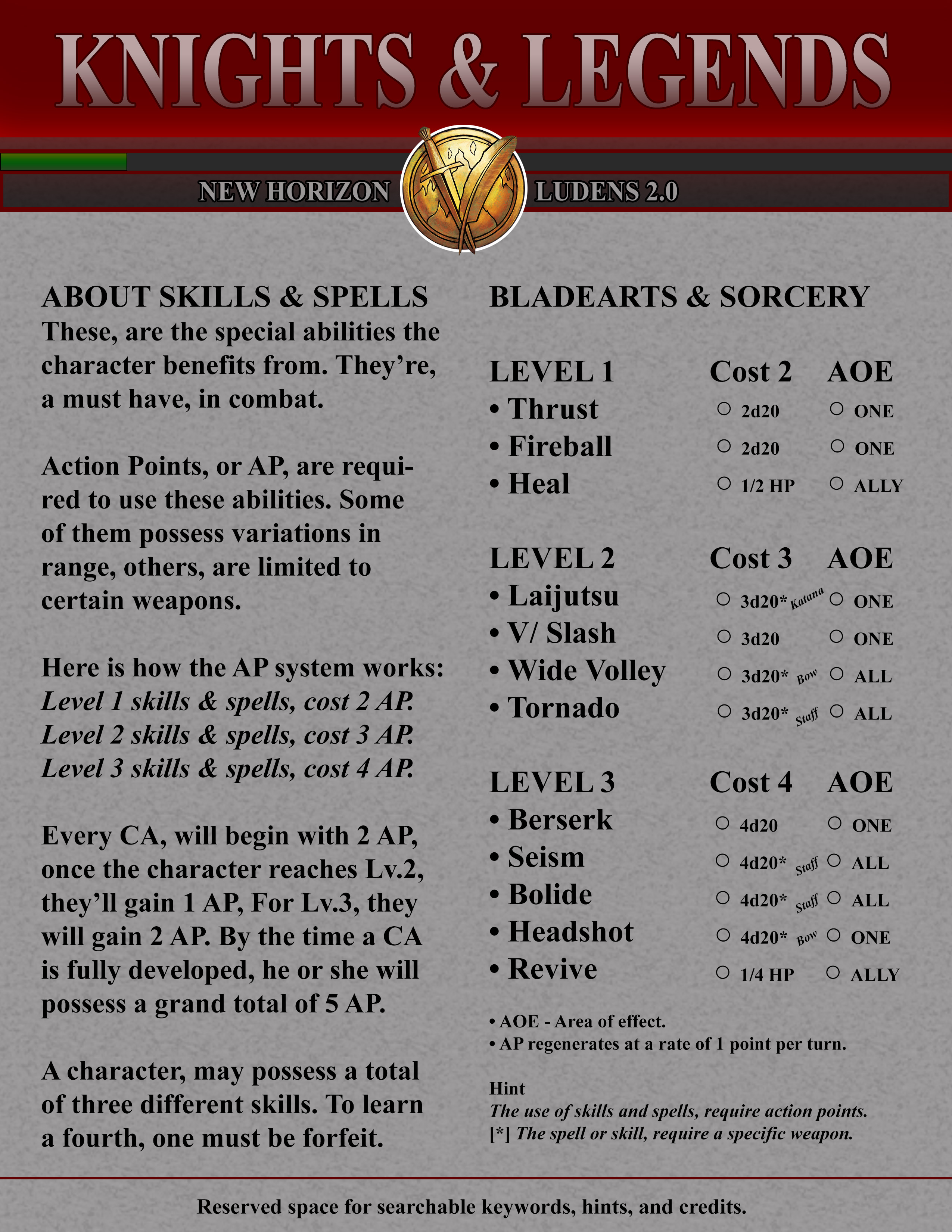 As you can see, the skills & spells will run mainly on a d20 system, while I plan to keep other dice for other exclusive actions.
Right now there's a concern that the game will be intimidating to newcomers, due to the various new rules that keep getting added daily.
Sense New Horizon will be an all-in-one core book, all the rules will be contained within, that includes the campaign setting, and things like, bestiary, how to craft your own adventures, task resolution, etc…
I'm taking the uncommon approach of using bigger fonts due to eye strain and constant zooming. The contrast also goes easy on the eyes, opposed to a black on white background. Bluelight exposure, was already confirmed to be a health hazard, and that choice was made to help you and me make the most out of our eyes.
Before I forget, these aren't the only actions players will have in combat. There will be other alternatives such as, parry & counter, evade, sneak attack, and others that were mentioned, and some that weren't.
To those who are just getting to learn about me, I'm a trpg game designer moving forward with my second game.
My projects were all self sustained by supporting members of the community, and the more they purchased my books, the more resources I acquired to keep on writing! And so, New Horizon came to be.
Today I'd like to show you a timeline of events from its predecessor. Events, players experienced through the original campaign trilogy, and Revelation V. You won't be required to play through classic K&L to understand and enjoy New Horizon, and spoilers were kept to a minimum just in case you decide to play from the very beginning. Check it out!
After reading through the prologue, watch the video for New Horizon again. Things will begin to clear up a bit. As a game designer, I like to advance parts of a story before you actually get to it, later hitting you with the element of surprise, and a grand finale. It's all part of me loving my work, and appreciating you as customer.
New Horizon Development 101 #02